Premier Powder Coating Services Wales
Powder coating will provide a durable yet attractive finish to any metal. Once the metal has been blasted cleaned it can then be powder coated. There is a wide range of RAL and BS colours and a choice of gloss levels.
What can be powder coated?
Our powder coating services are ideal for a large number of applications, from driveway gates and railings to motorcycle frames, wheels, and mechanical components. With both matt and gloss finishes available, we can produce many different colours with many textures, ensuring a unique and durable finish on all treatments. If it's metal it can be powder coated.
No job too small and we have a quick turnaround.
What is powder coating?
Powder coating is a modern, more environmentally friendly alternative to traditional wet painting. As it's name suggests, powder coating is dry. Minute powder particles are applied to a metal object or component using an electrostatic spray process which causes the powder to adhere to the metal surface.
After spraying, the component is transferred to a special oven and cured at temperatures up to 200 celsius. This process melts the powder onto the metal creating a smooth, highly finished and durable coating.
What are the advantages/ benefits of Powder Coating?
Powder coating produces a thicker, smoother, and more durable coating than conventional liquid coatings. The finished product looks great and is less prone to chipping, marking, and scratching.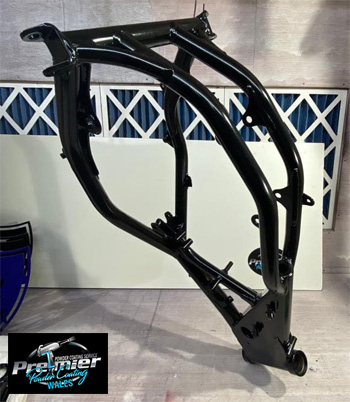 Powder coating can be applied to a wide range of metals and components and is suitable for both internal and external applications. This depends on the type of powder coating used with external uses requiring UV prohibitors.
Powder coating is more efficient than conventional wet painting because there is virtually no wastage from overspray. Unused powder can be recycled and used again.
Powder coating is faster than traditional wet painting, where the product must dry between coats. With powder coating, the product is oven-baked, so there is no need to wait for drying. In some cases the whole process can be completed in half an hour or less.
Greater efficiency and speed means that powder coating is often cheaper than using conventional spray painting techniques.
Powder coating is a more environmentally friendly process than other types of wet painting, producing no hazardous waste, odours or volatile organic compounds (VOCs).
Powder coating stages
As its being heated the powder goes through 4 stages:
Melt
Flow
Gel
Cure; The item is removed from the oven and left to cool.